What our guests have to say!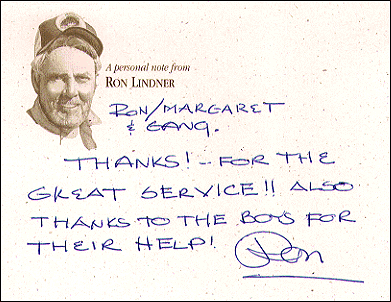 Thanks for a great stay. Looks like you've got a wonderful start. Best of luck to you both.
Carol & Larry (from Paradise Valley, Az.)

Hi- Sorry we didn't get to see you to say Bye!
Thanks for making us feel @ home!
See you next summer.
Kevin & April (from West Chicago, Il.)

Ron & Margaret
Thank You! We all had a Very nice time here. We'll be back!
Mike (from Sauk Center, Mn.)

Margaret & Ron,
We have had a wonderful week! We left the bread for the ducks.
Thanks again. (Great Dog!)
Jan, Tom & Jay (from Eagle Lake, Mn.)

Dear Ron - Margaret
I have a good luck charm that I will hold every day and think of you.
Thank you for being great warm people. Arne
Thanks for a great vacation.
Fondly Ann (from Solvang, Ca.)

Ron & Margaret,
Thanks so much for your hospitality. We had such a great time.
We know your resort is going to be a huge success.
We're looking forward to next year.
You've been great. Thanks again.
Sincerely Tony, Jacquelyn, David & Mary Grace (from Plainfield, Il.)

Dear Margaret, Ron, & Jeremy
Thank you so much for a perfect vacation.
We can't wait to develop our pics so we can relive it again & again.
After all our wanderings, I think we've put down vacation "roots".
We look forward to seeing all the progress you've made by next year when we'll see you again!
Fondly, April & Al (from Minneapolis, Mn.)

Ron & Margaret
Thanks for an absolutely fantastic weekend. We are recommending your resort to all of our friends.
The cabin was amazing. It's so nice to see that someone actually has a handicapped
accessible cabin that can be accessed by someone in a wheelchair.
A special thanks to Jeremy for taking Mike fishing and eagle watching.
He had the time of his life. Being in a wheelchair he doesn't always get
to do things like that. We will be returning! Thanks again for everything.
Roy & Linda Peterson & Mike

Ron & Margaret Johnson
9084 Little Sweden Road
Cook, Minnesota 55723
(218) 666-5699 or (800) 964-6306


e-mail us from HERE!