RATES AND RESORT LAYOUT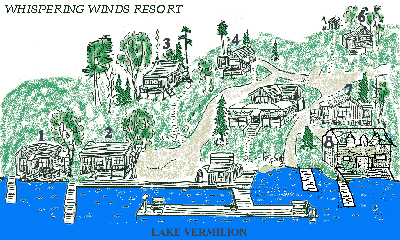 TAKE 10% OFF RATES BELOW BEFORE MEMORIAL DAY
TAKE 15% OFF RATES BELOW AFTER LABOR DAY

2023 CABIN RATES BASED ON TWO PEOPLE
EXCEPT # 8 IS FOR UP TO 5 PEOPLE
Cabin
Weekly Rate*
Daily Rate*
Bedrooms
Beds**
Total Occupancy
#1
$1445
$289
3
1Q, 1D, 3S
7
#2***
$1510
$302
4
1Q, 2D, 3S
10
#3***
$1235
$247
2
1Q, 2S, H
6
#4***
$975
$195
2
1D, 2S, H
6
#6
$975
$195
2
1D, 2S, H
5
#7***
$1325
$265
2
1D, 3S, H
8
#8***
$2350
$505
3
7 XLT
7
**Q = Queen, D = Bouble Bed, S = Single Bed, H = Hide a bed, XLT = Extra long twin, 2 XLT = King

*The above cabin rates are based on TWO PERSONS. EXCEPT # 8 is for up to 5 people

Add $120 per additional adult per week, and $45 per child between the ages of 0 and 12 per week.

Daily rates require an add-on of $30 per adult, $12 per child.

***This unit has a fireplace.
Minimum two night stay.
All cabins have sundecks, deck furniture, electricity, heat, hot and cold running water, showers, cooking ranges, refrigerators, dishes and cooking utensils, microwave ovens, cozy bedrooms, mattress pads and sheets. Please bring your own pillows and blankets. If flying, these can be furnished.

HIGH SPEED WIRELESS INTERNET in all the cabins

CABIN # 8, NEW IN 2009, has 2 bathrooms 1 with a roll in shower and 1 with a tub/shower, dishwasher, dish TV and is ADA ACCESSIBLE
RESERVATIONS
To guarantee reservation, deposit is required within 7 days ($400 Per Cabin Per Week / $500 for Cabin # 8). Deposits not applied to cabin charges. Deposit will be returned if cabin was left in acceptable condition. Stays of less than 5 days are required to pay in advance the full amount of days reserved. Refunds are given with a 60 day notice or if the cabin is re-rented (less a $25 cancellation fee). Balance is due upon arrival. You will be required to pay for your entire rental time reserved, whether you stay the full time or not. No exceptions! Our weeks are Saturday to Saturday on cabins 1, 2, 3 & 4 and Friday to Friday on cabins 6, 7, & 8. Check in after 3 pm check out before 9 am. All guests must register at the lodge. We reserve the right to charge for day visitors ($10 per day). WE PREFER CASH OR CHECKS but accept Visa, Mastercard and Discover (with a 3.5% non cash adjustment).

PETS . . .
No pets, please.
BOATS AND MOTORS

The three largest deluxe boats have new floors, locaters with gps,
and new trolling motors on them.

We have also added a deluxe 16.5' Alumacraft with a 115 hp motor
that will be $750 for the week and $155 a day.





16' Alumacraft with a 70 hp 4 stroke motor $135/day -- $650/week


16' Fisher with 40 hp motor $ 70/day -- $350/week


16' Crestiner with 60 hp motor $135/day -- $650/week


Lund 16 ft boats
Boat and Elec. Start Motor $200/week, $45/day
Boat and 20 hp Motor $200/week, $45/day
Boat Only $50/week, $18/day



Tracker fishing boat $ 135/day -- $650/week


20 foot Pontoon $15/hour, $125/day, $500/week



16' Fisher with 25 hp motor $60/day -- $300/week


Peddle boat & 17" canoe free for our guests


18 foot Pontoon $20/hour, $150/day, $700/week


MOTORS
Electric Start Motor or 20 hp $150 per week, $35 per day



ADDITIONAL CHARGES:

Gas & Oil is not included in rental fees.

Damages payable by operator.

Replacement prop for 15 hp motor $75, for 20 hp motor and above $100

Docking for one boat provided with each cabin. A $25 per boat charge per week or $5 daily will be assessed for cabins with more than one boat.